Chiang Mai Expats Club meets three times per month and everyone is welcome
General Meetings
---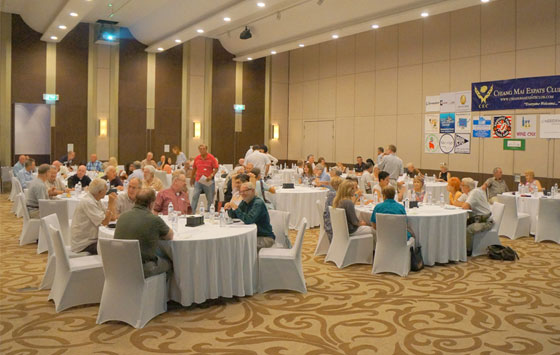 Most months, General Meetings are on the 4th Saturday of the month, at Le Meridien Hotel in the Night Bazaar.  Please check the calendar in advance since sometimes meeting dates are changed to accommodate speaker's schedules. We gather at 10:00 to enjoy coffee, tea and light snacks for a prompt start at 10:30 am. The meeting ends by 12:00 noon. Dress is neat casual.
Usually 100 – 150 people gather in the large ballroom, with newcomers given a chance to introduce themselves at the start of the meeting. After announcements of general interest, we highlight one of the Outside Group Activities (OGAs) of the CEC. Then, the group enjoys an informative and entertaining talk from a carefully selected main speaker. Time permitting; there is an Open Forum, where members can ask questions about life in Chiang Mai. The program closes with a Lucky Draw for restaurant vouchers and other valuable prizes.
After the meeting, CEC members can exchange DVDs and books at a table in the foyer outside the meeting room. Also, club sponsors and organizations have information and experts available for conversation in the foyer before and after the meeting.
The entrance fee to attend the General Meeting is 150 baht for members, 250 baht for visitors.
Lifetime membership in CEC is 1000 baht. You can purchase lifetime membership at either a Coffee Morning or General Meeting.
CEC Breakfast Club
---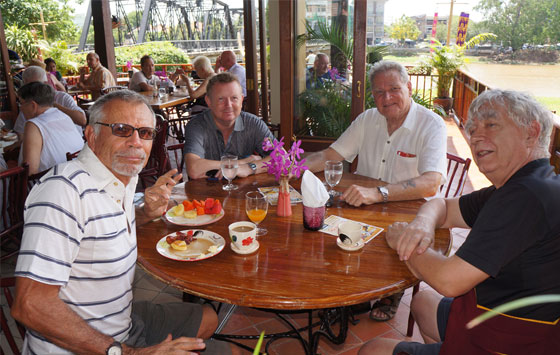 CEC Breakfast Club meets on the 1st and 3rd Friday of each month, 9:30 am – 11:30 am. Hosted by Chiang Mai Expats Club Sponsor The River Market restaurant, at the foot of the Iron Bridge on the west side of the Ping River.
Come enjoy a fabulous breakfast buffet (250 baht for members, 300 baht for guests) or just coffee/tea (80 baht for members, 120 baht for guests).
No program, just a chance enjoy a great buffet, chat, meet old friends, make new friends and have your questions answered about expat life in Chiang Mai. Usually 80 – 110 people enjoy the casual conversation and relaxed atmosphere of the Breakfast Club. Click here for GPS coordinates.
The River Market Location
Upcoming Meetings and Events